Club Penguin New Message From Rookie!
(March 12)
Rookie should have sent you a new Spy Phone message:
It says:
"You can count on me! I haven't given away any classified information for weeks!"
Club Penguin Reviewed By You: Puffle Games!
(March 13)
Billybob has posted a new "Reviewed by You" on the Community Blog! Last week the Team asked what we thought of the renovated Pet Shop. Todo265 posted this:
I love the new pet shop because it shows more puffle spirit! Everything in there is puffle oriented from the clock to the beds and houses and play pens. Its also a lot more colorful which i love fun and funky and more interesting too! Waddle on cp! (PS the pizza parlor should be renovated next!)
Awseome review Todo265!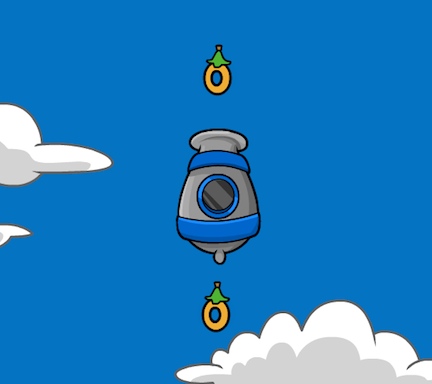 Billybob also said that they will be releasing a brand new game for all puffles called Puffle Launch! For this week's Reviewed by You, they want to know
"What games do you like to play with your puffle, and why?"
Write your submission on the Community Blog as a comment that is between fifty to seventy-five words.
New Club Penguin EPF Message from Dot!
(March 14)
You should've recieved a new Spy Phone message from Dot today: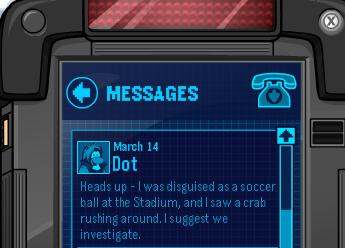 Dot said:
Heads up – I was disguised as a soccer ball at the Stadium, and I saw a crab rushing around. I suggest we investigate.
New Club Penguin Log In Screen!
(March 14)
Today Club Penguin released a brand new log in screen! Check it out:
This new log in screen is pretty cool! What do you think about this?
Club Penguin New Puffle Launch Stamps!
(March 14)
Club Penguin
has added 12 new stamps! Now the total is 257!
These are the 12 – some are members only:
Club Penguin Puffle Launch Game Guide!
Club Penguin released a new game located in the Pet Shop, here is the guide on how to play:
1. First, walk to the Pet Shop and go near the game to play.
2. Pick your favorite puffle that you own, and that is the puffle that you will use in the game.
3. You then pick your level. You will unlock more as you play the new game.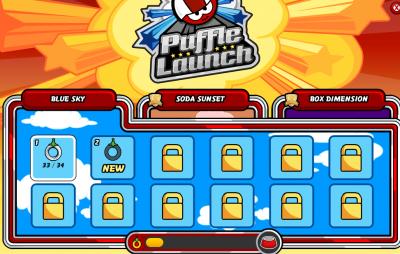 4. Then, your puffle that you have chosen will get launched in the air. You can then collect Puffle O's! try to collect as many as you can to advance to the next level.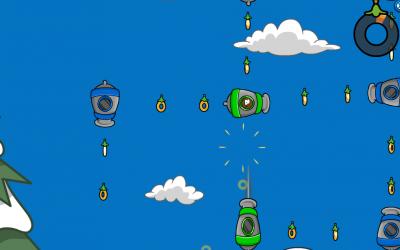 5. Then, once you collect Puffle O's. You can use them to build a cannon! Check that out!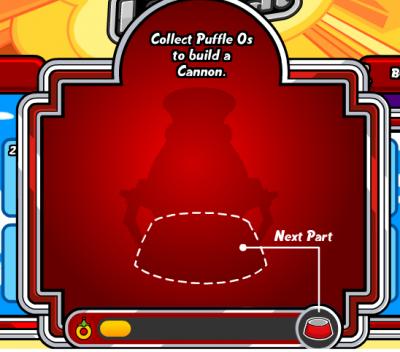 That's how you play Puffle Launch, have fun!
Club Penguin Field Op Mission #36 Cheats!
Club Penguin has released a new field-op, here is the guide to finish it:
•Login to Club Penguin
•Click on your ringing spy phone
•Click "Go There"
Go to the Field-Op screen:
Then, go to the Stadium and waddle under the Sports Shed.
Then play your Field Op. You have to try to crack the lock. You just repeat the pattern that they gave you on the first set.
Once you finish, you should get a new EPF medal, and a little call from Herbert:
You completed the new Field Op!



Posts

: 25


Join date

: 2011-02-20





Similar topics
---
Permissions in this forum:
You
cannot
reply to topics in this forum